Below you will find a list of considerations the ISO/IEC 20000 standard could be a valuable contribution:
When comparing IT service providers. ISO/IEC 20000 provides uniform and common language as well as a norm for benchmarking
When selecting an IT service provider. An IT organization can express added value when offering its services and distinguish itself from its competition
When an IT department/organization is looking for ways to better understand the needs of the customer. ISO/IEC 20000 can be a norm to improve IT governance
When needing guidance to determine which best practices to focus on first when adopting industry best practices to improve the effectiveness and efficiency of the IT department/organization
When seeking increased transparency of IT service provision costs, risks, IT budgets and costs
When looking for ways to implement changes faster and more effective and when seeking for a norm to improve efficiency and effectiveness
When attempting to better align the IT department's/organization's services to a third party's services, creating a uniform chain of services in particular from a process perspective
When looking for an effective method and uniform guidelines to outsource or offshore through a well-aligned process interfaces and common and consistent nomenclature. A norm which regulates outsourcing
When seeking a norm for reliable and available quality IT services
When looking for evidence that IT's processes are in compliance with international financial and security norms, rules and regulations
When going for a broad range of quality improvements within the IT department/organization, as well as boosting IT's professional image
When looking for an independent and non-biased baseline to weigh service providers against and use it as a norm
Most likely you will find a reason that resonates when going over this list which meets your short or long term service quality improvement needs.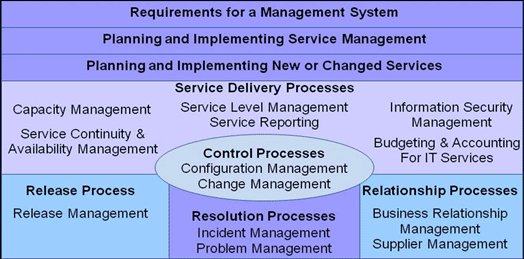 ISO/IEC 20000 Benefits
ISO/IEC 20000 provides a framework and systematic approach to managing the IT Service Management processes to deliver an IT service that conforms to the customer expectations. Implementing ISO/IEC 20000 improves the effectiveness and efficiency of the business process and it saves money. Most companies implementing ISO/IEC 20000 have experienced an increase in process efficiency, higher customer satisfaction and improved service quality. An ISO/IEC 20000 certified IT department or IT organization complies to globally accepted norms regarding the development and the delivery of IT services. For customers it will become easier to compare these IT service providers. There are many other benefits of being certified or simply using the standard even when not seeking certification. Below you will find a few examples.
To qualify for new customers; more and more companies and organizations consider ISO/IEC 20000 certification an essential requirement for conducting business with a new vendor
To enter global markets; the ISO/IEC 20000 standards are widely recognized
To objectively measure the level of compliance to industry best practices
To have better information available for numerous purposes
To better streamline to various process improvements that may go on simultaneously in an IT department
To provide guidance with prioritizing the best practices to be implemented in an IT department
To give a company or organization a competitive edge
To show a drive for quality services
To objectively assess and benchmark IT's level of maturity
To increase customer focus and transparency of value provided to the business
To establish a mentality of continual improvement in IT
The Certification Process
The ISO/IEC 20000 certification process consists of seven steps:
Complete a questionnaire
Apply for an assessment
Conduct an optional pre-audit
Conduct an initial audit (stage 1)
Conduct the certification audit (stage 2)
Conduct surveillance audits
Conduct the re-certification audits